OTC Students Get Unique Opportunity through Live Work Projects
Posted on Apr 05, 2022 at 18:02 PM
---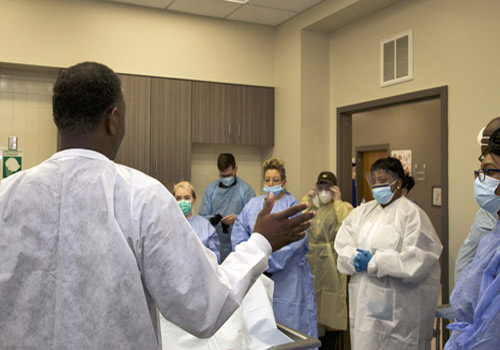 Funeral Service Education Program students at Ogeechee Technical College develop technical skills and professional courtesy through Instructional Live Work Projects in the classroom.

"Certain occupational areas require specific skills or competency mastery that is best obtained in a lab environment with real projects – Funeral Service Education is no different," said Dr. Kendrick K. Mack, Funeral Service Education instructor. "Through the generosity of those in our community, our students are given the opportunity to gain valuable experience in areas of Embalming and Restorative Art."

Due to a recent donation, OTC students had the opportunity to practice embalming and restoration, as well as provide a much-needed service to a family who wished to donate their loved one so that students could get hands-on training.

"We have been very fortunate here at OTC to have had three Live Works Projects since January of this year," said Michele Rupar-Smith, OTC Funeral Service Education program director. "These donations have provided our students with the opportunity to participate in valuable training. We pride ourselves on teaching compassion, dignity, and respect, and our students have had the opportunity to develop some practical skill and professional grace along the way."

All work performed during a Live Work Project is under the direct supervision of the Funeral Service Education instructors.

The Ogeechee Technical College's Funeral Service Education Program is the only American Board of Funeral Service Education accredited program offered by a public education institution in Georgia. If you would like to learn more about the Ogeechee Technical College Funeral Service Education program, please visit www.ogeecheetech.edu/FSRV.
About Ogeechee Technical College:
Ogeechee Technical College (OTC) is a unit of the Technical College System of Georgia. OTC provides student‐centered academic and occupational programs and support services at the associate degree, diploma, and certificate levels. OTC utilizes traditional and distance education methodologies in state-of-the-art facilities while supporting adult education, continuing education, and customized business and industry workforce training. Visit www.ogeecheetech.edu for more information.
---
Contact Information
Sean Payne
Executive Director for Public Relations & Marketing
912.871.8559 | spayne@ogeecheetech.edu
---
Categories:
Press Releases
Funeral Service Education
---