Worthington awarded Evans County Conservationist of the Year
Posted on Mar 01, 2023 at 13:49 PM
---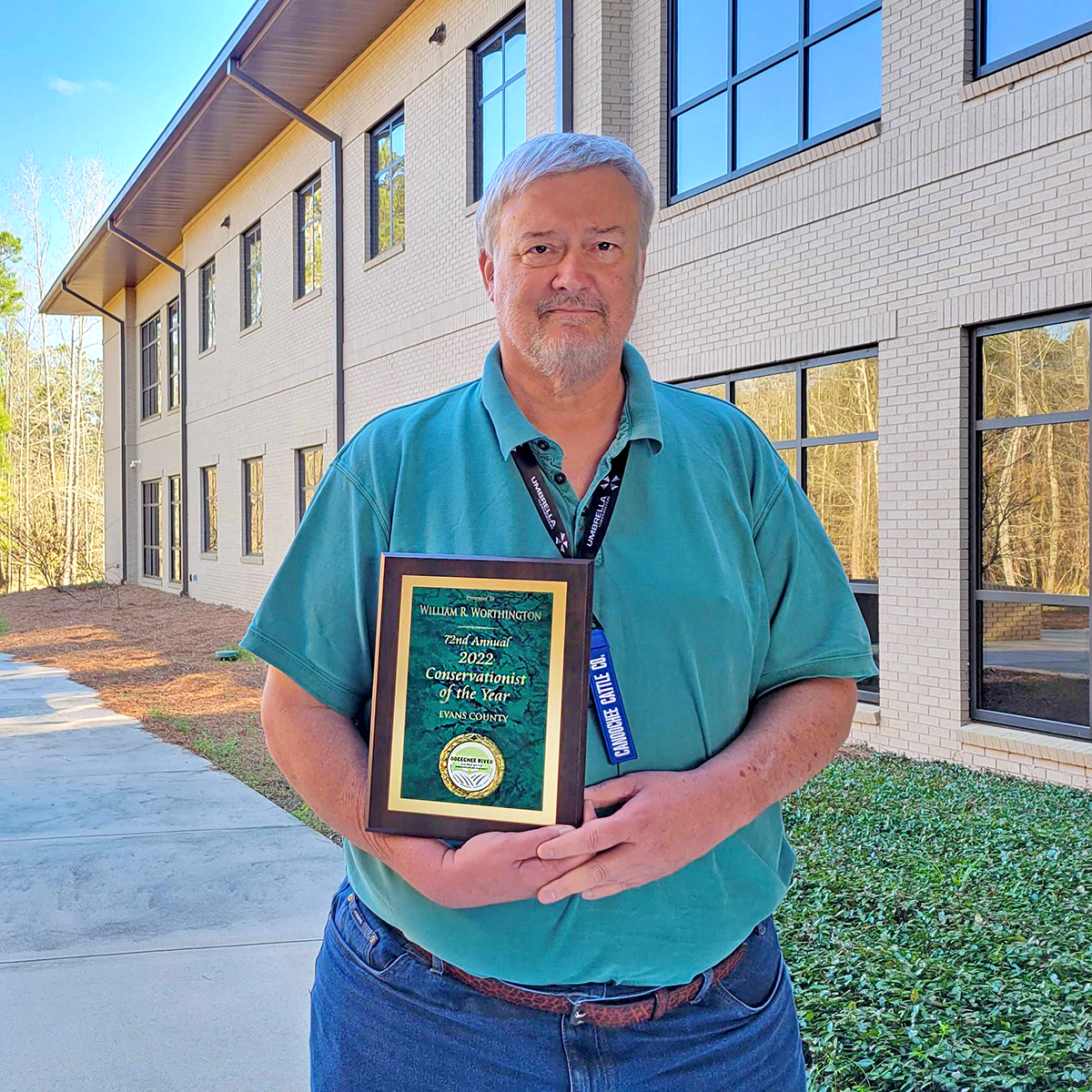 Bill Worthington, Ogeechee Technical College's (OTC) Agribusiness Instructor, was named the Evans County 2022 Conservationist of the Year by the Ogeechee River Soil and Water Conservation District. The presentation was made February 2 during the district's 72nd annual meeting.
"We are incredibly proud of Bill, it's amazing to see the decades of hard work on his farm acknowledged in such a special way," said Lori Durden, OTC President.
The Conservationist of the Year award exists to recognize farmers or landowners who have conducted exemplary conservation work on their land. It is awarded to those who have demonstrated a strong commitment to soil and water conservation through land stewardship, outreach, and education.
Worthington's nomination praised his ingenuity on his farmland, "Bill has dedicated his life to farming and the raising of livestock. His is a story of innovation, sustainability, conservation and smart growth through the hard work and use of new technologies, partnerships in education, advanced studies, and sustainable practices."
Worthington has owned and operated Canoochee Cattle Company, a 272-acre row crop and beef cattle farm outside Bellville, since 1983. What was once a farm dedicated to various row crops, he has transformed his property into a major livestock producer. The conversion process included building new fencing, planting grass, and the production of hay. His terraced fields contribute to the prevention of erosion, and the reintroduction of live oaks and waterways has turned his property into a thriving habitat for fish, ducks, deer, turkeys, quail, and other non-game species.
"It is an honor and a privilege to be named the Evans County Conservationist of the Year," said Worthington. "Agriculture is my life, whether I'm at home on my farm or teaching students in the classroom, I want to make sure that I am setting a good example of how t
About Ogeechee Technical College:
Ogeechee Technical College (OTC) is a unit of the Technical College System of Georgia. OTC provides student‐centered academic and occupational programs and support services at the associate degree, diploma, and certificate levels. OTC utilizes traditional and distance education methodologies in state-of-the-art facilities while supporting adult education, continuing education, and customized business and industry workforce training. Visit www.ogeecheetech.edu for more information.
---
Contact Information
Sean Payne
Executive Director for Public Relations & Marketing
912.871.8559 | spayne@ogeecheetech.edu
---
Categories:
Press Releases
News
Tags:
Conservationist of the Year
Agribusiness
---