Caleb Mills selected as OTC's 2021 Outstanding Alumni Award Recipient
Posted on Aug 05, 2021 at 16:02 PM
---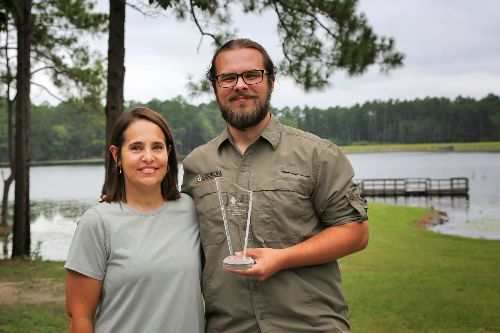 Caleb Mills, a 2017 graduate of the Fish and Wildlife Management program at Ogeechee Technical College, was recently named OTC's 2021 Outstanding Alumni winner.
Mills currently works as a Wildlife Technician II at the Georgia Department of Natural Resources, Evans County Public Fishing Area where he spends most of his time directly managing the operation of the campground and conference center as well as working toward a successful fisheries ecosystem.
"Caleb is such an incredible advocate for Technical Education and for the Fish and Wildlife Management program at Ogeechee Technical College. He understands the importance of the hands-on training students receive in our programs," said Casey Corbett, OTC's Fish & Wildlife Management instructor. "I am so thankful he continues to include my students in many of the projects that he has going on at the Evans County Public Fishing Area. It is people like him that are vital to our program's success."
In 2020 Mills was recognized by the Georgia Department of Natural Resource's Wildlife Resource Division with the State Fisheries Management Award. This award recognized his hard work and dedication to the Evans County PFA.
When he's not busy winning awards, he is spending his time giving back to the community. For the past three years Mills has helped organize volunteer projects for the community as well as projects for students to build fish attractors to enhance the aquatic habitats of the lakes at the Evans County PFA.
Each year the Outstanding Alumni award is presented to an Ogeechee Tech alumni who graduated within the last ten years, is making outstanding contributions and excelling in their chosen fields, who is giving back to their community, and is dedicated to the advancement of the College.
About Ogeechee Technical College:
Ogeechee Technical College (OTC) is a unit of the Technical College System of Georgia. OTC provides student‐centered academic and occupational programs and support services at the associate degree, diploma, and certificate levels. OTC utilizes traditional and distance education methodologies in state-of-the-art facilities while supporting adult education, continuing education, and customized business and industry workforce training. Visit www.ogeecheetech.edu for more information.
---
Contact Information
Sean Payne
Executive Director for Public Relations & Marketing
912.871.8559 | spayne@ogeecheetech.edu
---
Categories:
Press Releases
Alumni
---