Dental Assisting students volunteer at a Gift of Dentistry
Posted on Dec 20, 2022 at 10:29 AM
---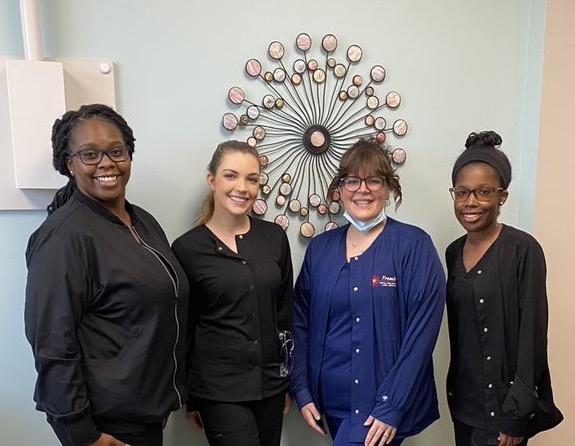 Earlier this month, Dental Assisting students from Ogeechee Technical College volunteered their time and skills to assist with a Gift of Dentistry, a local event that offers free dental care to people in need.

"I really enjoyed the experience of being able to use what I learned this semester to help serve these patients," said Dayjoin Johnson, a student in OTC's Dental Assisting Program.

During the event, OTC students were able to help assist 67 members of the Statesboro community with free dental care. Dr. Richard Marz, owner of Premier Dental Wellness, hosts the event each December and provides dental exams, cleanings, x-rays, and fillings. Patients in need of extractions were referred to Dr. Suk Patel at East Georgia Center for Oral and Facial Surgery, who also volunteered his services for the event.

"I had a great time and was excited to work with the great staff at both Premier Dental Wellness and East Georgia Center for Oral and Facial Surgery," said Destiny Dixon. "I will definitely be volunteering again next year!"

The OTC students discussed how not only was this a great opportunity to give back to the community but that it was a wonderful learning experience for them as well.
"It was really cool to be able to help people while learning at the same time," said Caitlyn Skarhus.
About Ogeechee Technical College:
Ogeechee Technical College (OTC) is a unit of the Technical College System of Georgia. OTC provides student‐centered academic and occupational programs and support services at the associate degree, diploma, and certificate levels. OTC utilizes traditional and distance education methodologies in state-of-the-art facilities while supporting adult education, continuing education, and customized business and industry workforce training. Visit www.ogeecheetech.edu for more information.
---
Contact Information
Sean Payne
Executive Director for Public Relations & Marketing
912.871.8559 | spayne@ogeecheetech.edu
---
Categories:
Dental Assisting
---