Evangeline Huff named 2021 Distinguished Alumni
Posted on Aug 05, 2021 at 15:32 PM
---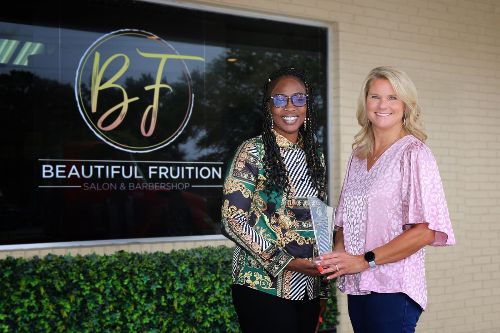 Evangeline Huff, founder and owner of Beautiful Fruition Salon & Barbershop in Statesboro, was recently named Ogeechee Technical College's 2021 Distinguished Alumni winner.
Huff is a 2006 graduate of OTC's Cosmetology program. Her love for hairstyling was cultivated at a young age in Italy and eventually led her to begin her cosmetology journey by obtaining her GED at OTC in 2004.
Following her graduation, Huff honed her skills by returning to OTC and working as a lab assistant in the Cosmetology salon. Shortly thereafter she was contracted in Afghanistan and continued to service civilians and soldiers in need of hair care. When she returned to the United States, she continued to style in Atlanta before moving back to Statesboro.
In 2015, Huff started a mobile hair styling service where she styled clients within the privacy of their homes. Building her clientele, she was then able to open Beautiful Fruition Salon & Barbershop.
"I am incredibly proud of what Evangeline has accomplished in our community over the course of the last decade, " said OTC president, Lori Durden. "From obtaining her GED, to opening her own business, she has shown that when you combine a vision and hard work with technical education, anything is possible."
Huff currently serves as a member on the Cosmetology and Adult Education Advisory Committees at OTC and is also the founder of BEAUT-Camp, a training opportunity for youth interested in careers in cosmetology. Evangeline uses cosmetology as a bridge to plant seeds of hope and inspiration through one on one mentorship in the community.
Each year the Distinguished Alumni award is presented to an Ogeechee Tech alum who graduated at least ten years prior, is making outstanding contributions and excelling in their chosen fields, who is giving back to their community, and is dedicated to the advancement of the College.
About Ogeechee Technical College:
Ogeechee Technical College (OTC) is a unit of the Technical College System of Georgia. OTC provides student‐centered academic and occupational programs and support services at the associate degree, diploma, and certificate levels. OTC utilizes traditional and distance education methodologies in state-of-the-art facilities while supporting adult education, continuing education, and customized business and industry workforce training. Visit www.ogeecheetech.edu for more information.
---
Contact Information
Sean Payne
Executive Director for Public Relations & Marketing
912.871.8559 | spayne@ogeecheetech.edu
---
Categories:
Press Releases
Alumni
---