Hand partners with Doty Wealth Management for Cybersecurity Training
Posted on Jun 21, 2022 at 14:22 PM
---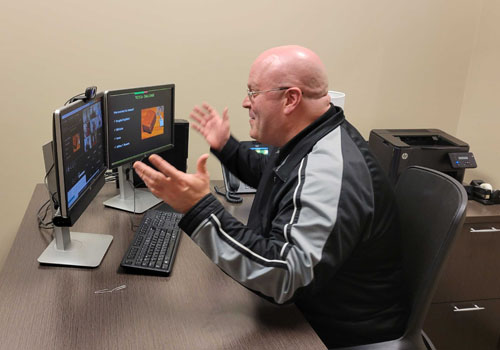 Terry Hand, a CIS Instructor at Ogeechee Technical College, partnered with the Doty Wealth Management Team of Wells Fargo Advisors to do cybersecurity training as part of their monthly "lunch and learn" for clients.
In his presentation titled "Security Awareness in the Modern-Day World – Protecting Your Information / Identity," Hand discussed different ways to secure your computer, personal files, and identification including topics on usernames, passwords, encryption, antivirus, updates and more.
"The truth is that we live in a technological society that functions on the backbone of computer systems," said Hand. "Computers are everywhere, and we have come to depend on them. Identity theft is higher than ever as cyber-attacks are becoming more sophisticated and more of our data is becoming available in a digital format online."
Hand also discussed at length different methods to securing mobile devices, the dos and don'ts of using public wi-fi, and how to avoid phishing scams and social engineering tactics designed to steal your information.
A two-time instructor of the year at OTC, Hand holds a Bachelor of Science degree from Georgia Southern University and a Master of Science in Computer Information Systems (MSCIS) from the University of Phoenix. He also holds the following industry standard computer IT certifications: MCSA (Microsoft Certified Systems Administrator), MCP (Microsoft Certified Professional), Security+, Network+, A+, and CySA+ from CompTIA.
About Ogeechee Technical College:
Ogeechee Technical College (OTC) is a unit of the Technical College System of Georgia. OTC provides student‐centered academic and occupational programs and support services at the associate degree, diploma, and certificate levels. OTC utilizes traditional and distance education methodologies in state-of-the-art facilities while supporting adult education, continuing education, and customized business and industry workforce training. Visit www.ogeecheetech.edu for more information.
---
Contact Information
Sean Payne
Executive Director for Public Relations & Marketing
912.871.8559 | spayne@ogeecheetech.edu
---
Categories:
Press Releases
Computer Information Systems
Academics
---