Hyundai Motor Group Metaplant America, Georgia Southern University and Ogeechee Technical College Forge Transformative Partnership
Posted on Sep 06, 2023 at 14:20 PM
---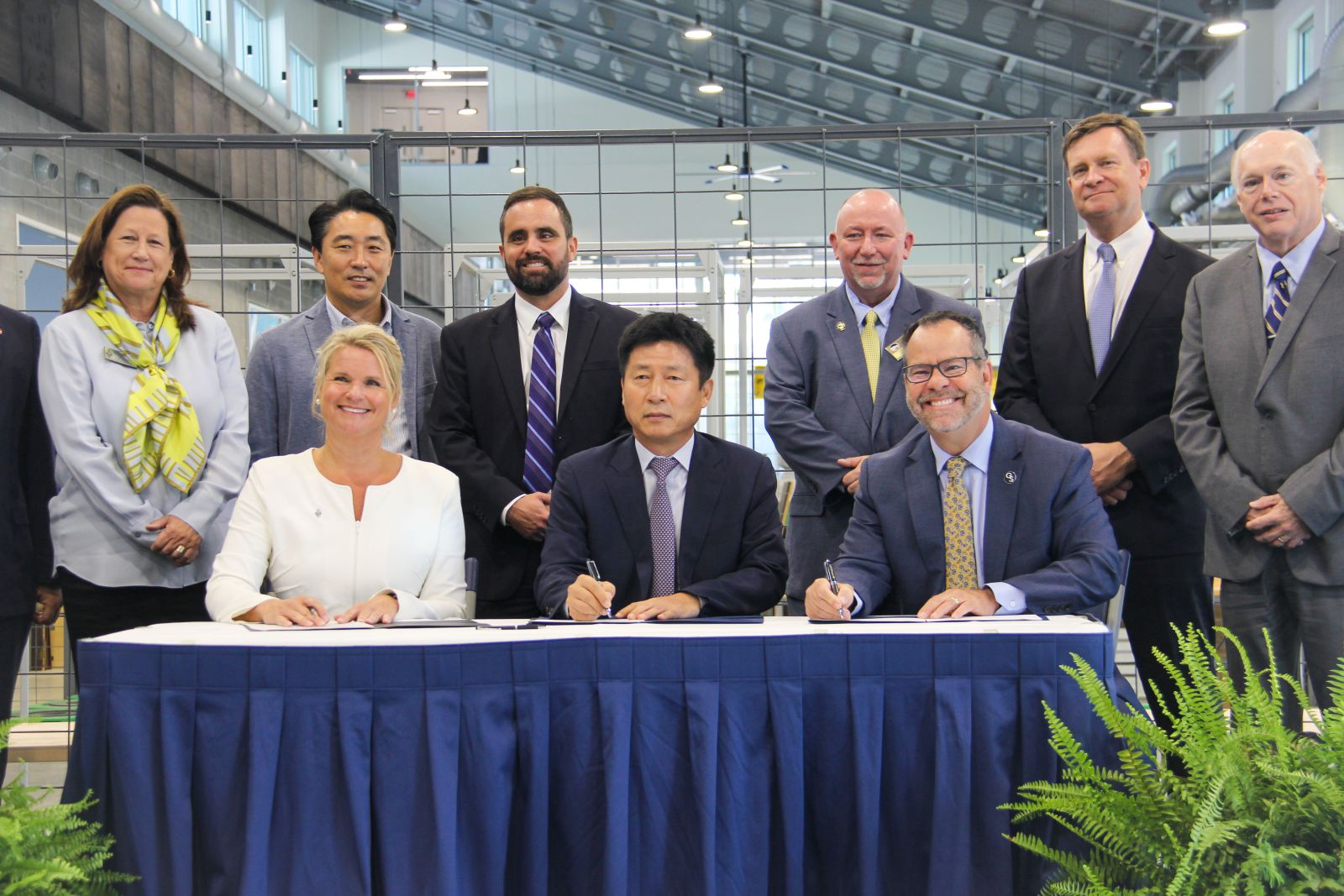 In a milestone collaboration aimed at fostering workforce development, innovation, and community enrichment, Hyundai Motor Group Metaplant America (HMGMA), Georgia Southern University and Ogeechee Technical College are signing a formal agreement to work together in addressing regional workforce needs while advancing academic excellence and technological innovation.
The partnership will encompass a diverse range of initiatives that reflect the shared commitment HMGMA and its local education partners have to catalyze positive change for both the academic community and the broader society. Leveraging their respective strengths, this collaboration aims to address workforce demands, create transformative educational pathways, and drive impactful research endeavors.
"Together, we are not just building cars; we are building futures, strengthening the community and driving progress," said HMGMA CEO Oscar Kwon. "That is part of Hyundai's mission: progress for humanity. Our partnership with these institutions reflects our shared vision for a brighter, more innovative future."
As part of this partnership, Georgia Southern University has committed to build on the success it has already seen in recruitment services for HMGMA. These services will include on-campus information sessions, dedicated company recruiting events, and on-campus interview days for graduating seniors. By bridging the gap between academia and industry, the University is ensuring that its students are well-prepared for the demands of the professional world. The university also will offer professional development certifications and courses for the company's employees through its Continuing and Professional Education programs.
"This partnership stands as a testament to the value of collaboration between academia and industry in driving holistic growth," said Georgia Southern President Kyle Marrero. "By uniting forces, HMGMA and Georgia Southern University are forging a path that not only elevates educational opportunities but also cultivates a thriving community equipped to meet the challenges and opportunities of the future."
Georgia Southern also will strengthen its alliance with Ogeechee Technical College to create revised and expanded articulation agreements, pathway programs, and credit transfers. These initiatives will pave the way for the development of collaborative academic programs tailored to meet the specific workforce needs of the region. This includes exploring innovative degree pathways such as Advanced Manufacturing to Engineering, as well as fostering additional academic collaborations that align with workforce-driven educational programs.
Ogeechee Tech's commitment includes continuing its record of providing training to local companies to include implementing the Electric Vehicle Professional Technical Certificate of Credit and Hybrid/Electric Vehicle Repair Technician Technical Certificate of Credit programs, and developing Industrial Maintenance Noncredit Training for HMGMA Employees. Additionally, Ogeechee Tech agrees to provide on-campus recruitment events and career fairs to current and past graduates.
"Ogeechee Technical College is very excited about entering into this MOU with HMGMA," said Lori Durden, president of Ogeechee Tech. "This has been several months in the making, and like other institutions and technical colleges in our region, we are going to do all that we can to support the efforts of our Governor to make Georgia the electric mobility capital of America. This is an exciting day for Ogeechee Technical College, and we look forward to supporting the evolving workforce development needs of this region."
With the Memorandum of Understanding, HMGMA will help promote educational opportunities in the region; develop internship, career pathway programs, and other appropriate work-based learning opportunities; and commit to exploring potential research, innovation, and commercialization projects.
About HMGMA
Hyundai Motor Group Metaplant America (HMGMA) is Hyundai Motor Group's first dedicated Electric Vehicle mass-production plant and will be located in Bryan County, GA. The new plant will boast a highly connected, automated, and flexible manufacturing system, which organically connects all elements of the EV ecosystem to realize customer value. The Georgia facility will become an intelligent manufacturing plant. All processes of production—order collection, procurement, logistics and production—will be optimized utilizing AI and data. The innovative manufacturing system will also help create a human-centered work environment with robots assisting human workers.\
About Hyundai Motor Group
Hyundai Motor Group is a global enterprise that has created a value chain based on mobility, steel, and construction, as well as logistics, finance, IT, and service. With about 250,000 employees worldwide, the Group's mobility brands include Hyundai, Kia, and Genesis. Armed with creative thinking, cooperative communication, and the will to take on any challenges, we strive to create a better future for all. More information about Hyundai Motor Group, please see: www.hyundaimotorgroup.com
Georgia Southern University, a public Carnegie Doctoral/R2 institution founded in 1906, offers approximately 140 different degree programs serving more than 25,500 students through 10 colleges on three campuses in Statesboro, Savannah, Hinesville and online instruction. A leader in higher education in southeast Georgia with expert faculty, the University is focused on public impact research and engaging learning opportunities through knowledge and know-how that prepare our students to take ownership of their lives, careers and communities. Visit GeorgiaSouthern.edu.
Ogeechee Technical College (OTC) is a unit of the Technical College System of Georgia. OTC provides student‐centered academic and occupational programs and support services at the associate degree, diploma, and certificate levels. OTC utilizes traditional and distance education methodologies in state-of-the-art facilities while supporting adult education, continuing education, and customized business and industry workforce training.
---
---