Logistics Students Attend MODEX Expo in Atlanta
Posted on Apr 19, 2022 at 15:04 PM
---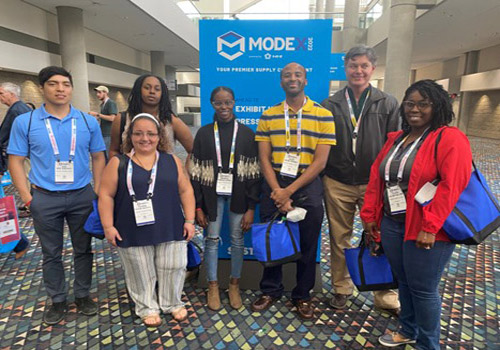 Five students from Ogeechee Technical College's Logistics Management program traveled to Atlanta to attend Student Day at the MODEX 2022 expo in early April.

"I had never been to the World Congress Center before, and I really loved walking around and talking to all of the companies about what they do in the world of logistics," said BenJiyah Walker, a student in OTC's Logistics Management program.

Student Day at MODEX 2022 was an opportunity for college, university, trade, technical, specialty, and high school students to hear from leaders in the field, meet with employers, and attend educational breakout sessions. Students in attendance gained a better understanding of the products, services, and technologies that enable supply chain management and how they are shaping the future of our world.

"I hope that we can continue to bring an increasing number of students to this event each year," said Jillian Walton, Logistics Instructor. "Quite a few of the companies participating in the event are there to network with potential employees, and the demand for logistics and supply chain talent is very high right now and comes with rewarding pay."

For students, one of the highlights of the trip was an opportunity to hear a motivational speech from NBA Hall of Famer, Shaquille O'Neal.

"Shaq really is bigger than life. It was really good to hear him talk about the importance of education and to acknowledge our hard work and efforts in the classroom," Jacob Tremble, Logistics Management student.

For more information about the Logistics Management program at Ogeechee Technical College, please visit www.ogeecheetech.edu/LOGI.
About Ogeechee Technical College:
Ogeechee Technical College (OTC) is a unit of the Technical College System of Georgia. OTC provides student‐centered academic and occupational programs and support services at the associate degree, diploma, and certificate levels. OTC utilizes traditional and distance education methodologies in state-of-the-art facilities while supporting adult education, continuing education, and customized business and industry workforce training. Visit www.ogeecheetech.edu for more information.
---
Contact Information
Sean Payne
Executive Director for Public Relations & Marketing
912.871.8559 | spayne@ogeecheetech.edu
---
Categories:
Student Activities
Press Releases
Logistics Management
Tags:
Opportunities
Logistic students
Student Activities
---