Lunch & Learn Guests Share Experiences with Nontraditional Students
Posted on May 04, 2022 at 18:21 PM
---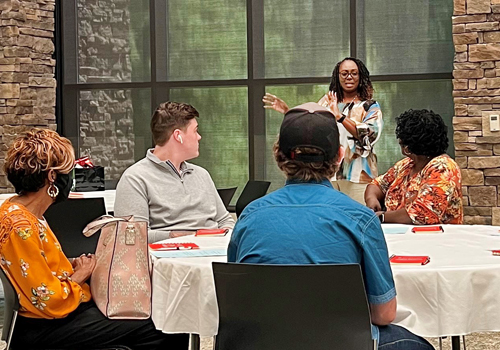 Student Support Services at Ogeechee Technical College recently invited three guest speakers to a Lunch & Learn for nontraditional students on campus to share their experiences working in a nontraditional career field.
Students preparing for nontraditional fields are defined as those who are enrolled in a program of study that will lead to an occupation in which their gender makes up 25% or less of the total workforce numbers.
Guest speakers Stephen McBride, an educator at Kids World Learning Center, Dawn Zes, a project manager for Pearce Building Systems, and Hope White, owner and CEO of H. D. White Logistics, LLC., took turns sharing about their experiences, challenges, and advantages of working in a nontraditional career field.
"All three of our guest speakers experience life and work in different ways and had a lot of great nuggets of wisdom to share with our students," said Sabrina Burns, Accessibility and Special Populations Coordinator at Ogeechee Tech. "I also appreciated the advice Hope gave about not being afraid to take risks and believe in yourself, especially if you plan on owning your own business one day."
White also spent some time talking about the challenges she has faced as a black female who owns her own logistics company and gave some tips on how to be an entrepreneur and business owner. She explained that having a specialization has helped her in her field and that success is found in a specific service or niche.
---
Categories:
Student Activities
Press Releases
---