Mayor McCollar visits OTC for Black History Month
Posted on Feb 14, 2022 at 20:28 PM
---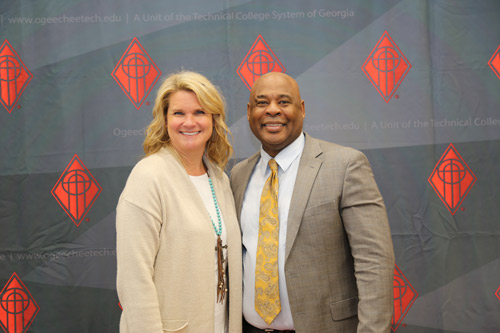 Ogeechee Technical College recently invited Statesboro Mayor, Jonathan McCollar, to campus on February 8 at 3:00 p.m., to speak with faculty, staff, and students in honor of Black History Month.

Hosted by OTC's Racial Equity and Inclusion Committee and Student Support Services, Mayor McCollar touched on several topics including leadership, communication, work ethic, the current state of the city and his office. In his closing remarks McCollar mentioned how the upcoming generation is key to helping make progress.

"There are things that our country must face, there are some things that we are going to have some very serious conversations about if we are planning to move this country forward," said McCollar. "I believe this generation is the generation that is going to move us forward. This is a generation that chooses to love differently, they choose to see race differently, they celebrate their faith differently, they see something in the genius that we are all connected to each other," he added.

Sabrina Burns who works with Student Support Services at OTC and is a member of the Racial Equity and Inclusion Committee, played an integral role in helping organize the event for the campus.

"It was truly an honor and a pleasure to have Mayor Jonathan McCollar as a speaker at OTC in celebration of Black History Month," said Burns. "As one who has made history himself as the first black mayor of Statesboro, he spoke passionately about his advocacy for social equality, economic development, and political activism."

In addition to inviting Mayor McCollar to campus, OTC has been sharing educational information via their social media channels about Black History Month and the Black men and women who have made major contributions to the fields of health, medicine, and wellness.
About Ogeechee Technical College:
Ogeechee Technical College (OTC) is a unit of the Technical College System of Georgia. OTC provides student‐centered academic and occupational programs and support services at the associate degree, diploma, and certificate levels. OTC utilizes traditional and distance education methodologies in state-of-the-art facilities while supporting adult education, continuing education, and customized business and industry workforce training. Visit www.ogeecheetech.edu for more information.
---
Contact Information
Sean Payne
Executive Director for Public Relations & Marketing
912.871.8559 | spayne@ogeecheetech.edu
---
Categories:
Student Affairs
Press Releases
Media
Faculty/Staff
Community
---