NTHS inducts 39 new members
Posted on May 09, 2023 at 16:28 PM
---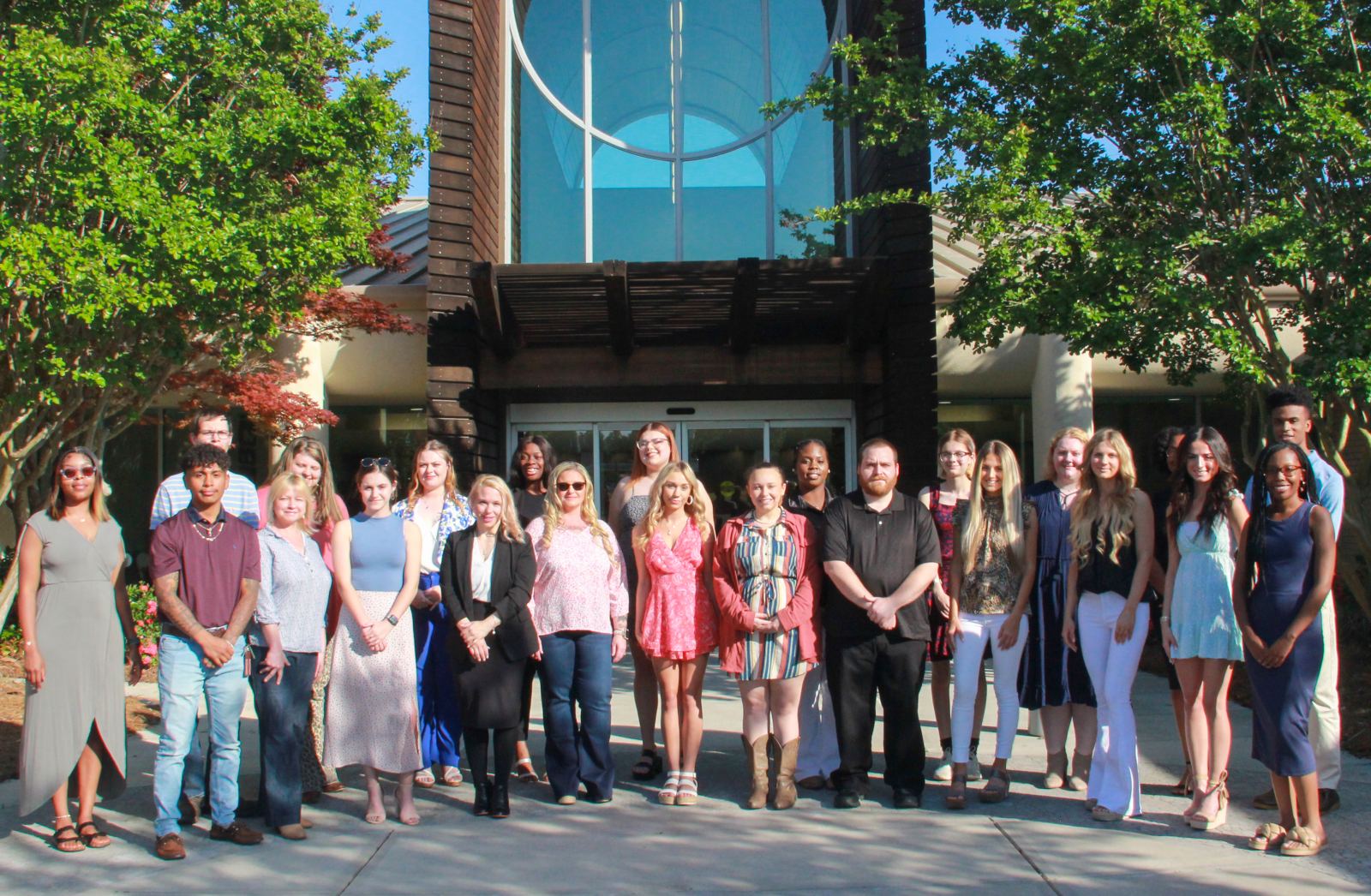 The National Technical Honor Society at Ogeechee Technical College (OTC) recently hosted its annual induction ceremony in the Joseph E. Kennedy auditorium at the College. 39 new members who achieved and maintained at least a 3.25 grade point average, and who received recommendations from their instructors, were inducted into the organization and received their official NTHS portfolios.
Club advisor, Lisa Lanier introduced the new officers and began the candle ceremony to symbolize the seven attributes of the NTHS: skill, responsibility, honesty, scholarship, leadership, service, and citizenship.
"I am so proud of all of these students for maintaining a minimum of a 3.25 GPA and being recommended by a faculty member for their hard work and leadership skills," said Lisa Lanier, Director for Library Services and NTHS Club Advisor. "I hope they will become active members in leading our NTHS Chapter during their time at OTC."
The National Technical Honor Society is dedicated to recognizing excellence in career and technical education. Its mission is to honor student achievement and leadership, promote educational excellence, award scholarships, and enhance career opportunities. Students inducted into NTHS must have completed 20 semester hours or more and have maintained a 3.25 cumulative GPA or higher in addition to other criteria.
To date, NTHS has awarded nearly 3 million dollars in scholarships through its own Jon H. Poteat scholarship, through partnered career tech student organizations, and through an incredibly generous alumni association.
Induction Participants:
Fall 2022 - Angelina Barber, Amy Beach, Claudia Blow, Stephanie Bunch, Hannah Edwards, Dale Guentzel III, Tony Hernandez, Dayjoin Johnson, Gabrille Johnson, Kierstan Leeks, Patrick Lewis, Tiffany McDonald, Roscoe Parrish, Briana Polk, Taylor Rhymes-Weidner, Tyler Rich, Evamarie Sack, Madeline Sayegh, Willie Scott, Stephen Smith, Madison Story, Katelyn Williams, and Windy Williams.
Spring 2023 - Stacy Burnsed, Regan Carter, Amanda Davis, Kiana Dessasure, Chelsie Diaz, Destiny Dixon, Delia Hunt, Samantha LaDuca, Trinity Macut, Myriam Martinez, Rebecca Meredith, Madison Miller, Jawanica Mobley, Abbi Ridings, Alayna Smith, and Kacey Smith.
About Ogeechee Technical College:
Ogeechee Technical College (OTC) is a unit of the Technical College System of Georgia. OTC provides student‐centered academic and occupational programs and support services at the associate degree, diploma, and certificate levels. OTC utilizes traditional and distance education methodologies in state-of-the-art facilities while supporting adult education, continuing education, and customized business and industry workforce training. Visit www.ogeecheetech.edu for more information.
---
Contact Information
Sean Payne
Executive Director for Public Relations & Marketing
912.871.8559 | spayne@ogeecheetech.edu
---
Categories:
Press Releases
News
Tags:
Pinning Ceremony
National Technical Honor Society
---