Ogeechee Technical College Announces Development of State-of-the-Art Industrial Systems & Industrial Robotics Training Center
Posted on Jun 05, 2023 at 14:40 PM
---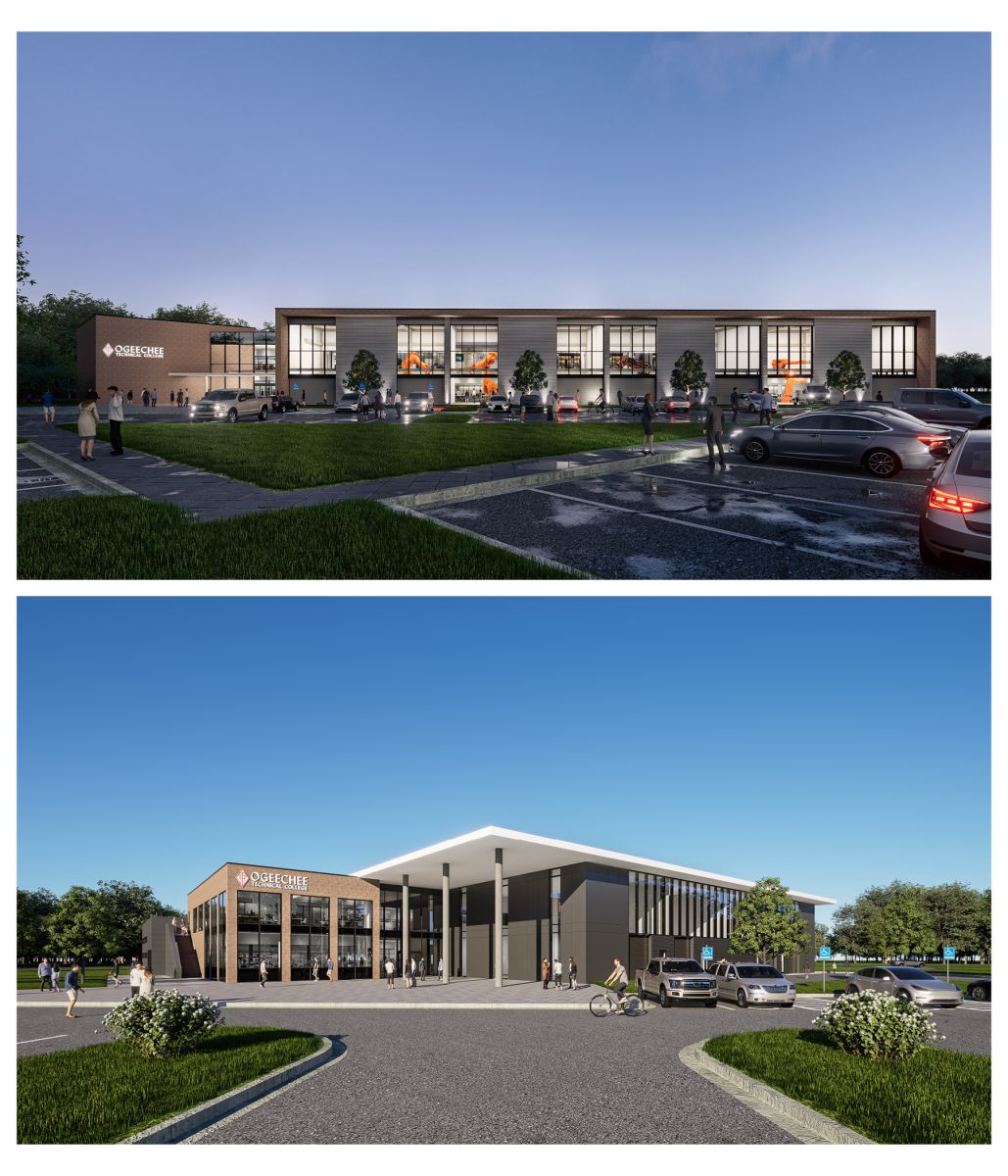 In a move that will continue to transform workforce development in southeast Georgia, Governor Brian Kemp recently approved funding to construct the Georgia Industrial Systems and Industrial Robotics Training Center (GISIRTC) in the state's FY23 amended budget.
Unique to the state of Georgia, the 37,000 square foot GISIRTC will be a division of Ogeechee Technical College, and will be located near the main campus of the College at the corner of A.J. Riggs Road and Highway 301 South in Bulloch County.
"The mission of the Technical College System of Georgia is to build a well-educated, globally competitive workforce through technical education, adult education, and customized training for Georgia's businesses and industries," said Greg Dozier, Commissioner of the Technical College System of Georgia. "The GISIRTC will provide a very high level of customized training for manufacturers and industry within its region, and those who train there will have the skills necessary to meet the demands placed upon the workforce of today and tomorrow. We are delighted that Governor Kemp and the Georgia Legislature saw the need to fund this facility."
The GISIRTC is the result of a unique partnership between Ogeechee Tech, Bulloch County, and the Development Authority of Bulloch County that was supported by the region's local legislative delegation, in addition to other development authorities within the region. The Bulloch County Board of County Commissioners provided funding for the initial facility design and economic impact study, and the Development Authority of Bulloch County deeded the land for the Center to the Technical College System of Georgia.
"I have a tremendous passion for education and skills acquisition, and that is why I am so thrilled that we were able to secure funding for the GISIRTC," said Georgia State Senator, Billy Hickman. "This state-of-the art training facility will ensure that our citizens and regional industry have access to the best possible training in industrial automation that can be delivered. It will be a unique facility to the state of Georgia, and will serve as an example of the transformational training that will be required to meet the
needs of companies locating to this region. We are very blessed to have this, and I have no doubt that it will prove to be a game changer for our region."
Projected to open in March 2025, the two-story training center will house labs for industrial systems, industrial robotics, as well as PLC (Programmable Logic Controller) training. Envisioned with maximum flexibility, the GISIRTC will provide training to employees of manufacturers within the region as well as companies that use automation in their supply and warehousing facilities. It will be a continuation and expansion of the training that Ogeechee Technical College currently conducts.
"This facility will give us the capacity to transform the regional workforce, support the growing needs of industrial automation in this region, drive manufacturing growth to our area and elevate the training capabilities of our state," stated Lori Durden, President of Ogeechee Technical College. "Technology and automation in the workplace are evolving at a rapid pace. This facility will allow us to keep up with that – which will be of tremendous benefit to both our workforce and our industry partners."
In fiscal year 2022, Ogeechee Tech logged more than 102,000 hours in industrial systems and industrial robotics training, serving industry throughout its service delivery area, the surrounding region, and nationally. At its current rate of growth, the industrial systems training program is projected to meet its training capacity in the College's Industrial Technology Building in 2024.
The GISIRTC will more than triple the current training capacity of Ogeechee Tech to 460,000 hours annually. Additionally, in a study conducted by Georgia Southern University's Center for Business Analytics and Economic Research, it is projected that the Center will average $17 million in annual operational output within its first few years of operation, becoming an important economic driver within the region.
"The GISIRTC will be a powerful and unique tool for workforce development to support our existing and prospective industrial partners. This facility will also certainly become a regional asset and a transferable training model for jobs of the future," said Benjy Thompson, CEO of the Development Authority of Bulloch County. "It is a very important piece of the puzzle as this region continues to evolve as a major manufacturing hub within the state and the southeastern United States."
As a training facility with a regional impact, the GISIRTC has already created a partnership between Ogeechee Technical College and its Technical College System neighbor Southeastern Technical College.
"Southeastern Technical College is proud to partner with Ogeechee Technical College for the development of the Georgia Industrial Systems and Industrial Robotics Training Center," said Larry Calhoun, President of Southeastern Technical College. "This facility and its programs will better enable our graduates and other individuals in our area to upgrade their skills and enhance their careers. As the need for a well-trained Georgia manufacturing workforce continues to grow, this modern, well-equipped facility and its staff will be an increasingly important center of excellence for the economic prosperity of our region."
Funding for the project resulted from the collective efforts of the region's state legislative delegation in their support of Governor Kemp's history making manufacturing initiatives in southeast Georgia. Senator Blake Tillery represents Senate District 19, and serves as Chair of Georgia's Senate Appropriations Committee.
"We know that workforce training efforts in this region are paramount with the number of new jobs being created in southeast Georgia." Tillery said. "I am very encouraged by the partnership between Ogeechee Tech and Southeastern Tech to deliver the very highest level of industrial maintenance and industrial robotics training necessary for the ongoing success of manufacturing and related industries in the region. The GISIRTC and its resulting partnerships forge a path forward in workforce training for our state. That is why the funding of this initiative was so important."
Timeline for construction of the GISIRTC has been projected with the architectural design phase slated to begin in July, and construction following in March 2024. Praxis3 has been selected as the architect for the project with selection of the construction manager scheduled for June 28. The Georgia State Financing and Investment Commission will monitor the progress of the project and provide the accounting services associated with it.
"I want to thank TCSG Commissioner Greg Dozier for his strong support of the GISIRTC, as well as Bulloch County Manager Tom Couch, the Bulloch County Board of County Commissioners, the Board of the Development Authority of Bulloch County and its CEO Benjy Thompson for seeing the value to our community that the GISIRTC will bring, and for taking a leap of faith in their firm support of this project," Durden said. "I would also like to thank Senator Billy Hickman for taking the lead with our legislative delegation, Representative Lehman Franklin, as well as Speaker of the House Jon Burns and Senator Blake Tillery for their support. Additionally, I would like to thank President Larry Calhoun of Southeastern Tech – who has been so supportive and forward thinking as to what the future of workforce development could be. This facility would not be a reality without each of those I have mentioned. We are blessed to have this leadership in our community, our region, and our state."
About Ogeechee Technical College:
Ogeechee Technical College (OTC) is a unit of the Technical College System of Georgia. OTC provides student‐centered academic and occupational programs and support services at the associate degree, diploma, and certificate levels. OTC utilizes traditional and distance education methodologies in state-of-the-art facilities while supporting adult education, continuing education, and customized business and industry workforce training. Visit www.ogeecheetech.edu for more information.
---
Contact Information
Sean Payne
Executive Director for Public Relations & Marketing
912.871.8559 | spayne@ogeecheetech.edu
---
Categories:
Press Releases
News
Tags:
GISIRTC
Industrial Robotics Training Center
Georgia Industrial Systems
---