Opticianry AAS Degree to offer Online Options this Fall
Posted on Mar 28, 2022 at 14:53 PM
---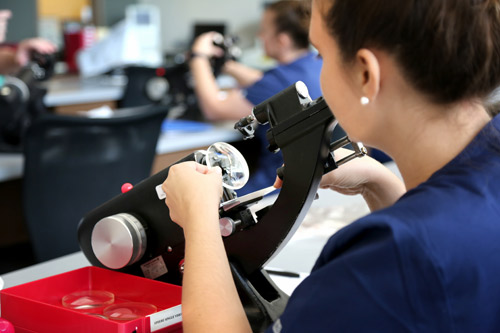 Beginning Fall 2022, Ogeechee Technical College will begin offering online options in its Opticianry Associate of Applied Science Degree to those who have an approved mentor and access to an optical facility.

"As the only accredited Opticianry program in the state, this is big news for employers in Georgia," said Jennifer Witherington, Senior Academic Dean, Health Science & Online Learning. "Being able to provide these courses online and having skills approved by mentors off-site allows currently employed assistants and technicians to earn their licenses and increase their pay."

Once students have successfully completed the program and passed the American Board of Opticianry (ABO) and National Contact Lens Examiners (NCLE) exams, they are eligible to complete and submit the application for Licensure Examination to the Georgia State Board of Licensing for Dispensing Opticians, which is comprised of a Contact Lens and Optical Practicum.

"Although opticians routinely hire entry-level technicians, very few are licensed, which is required in the state of Georgia and 22 other states. Licensed Dispensing Opticians are trained to take measurements, choose eyewear to meet customers' optical and cosmetic needs, fabricate prescription lenses, fit contact lenses, and adjust and fit eyewear," said Deborah DeLoach, Opticianry Program Director. "Offering this program online now gives businesses the opportunity to train their in-house employees toward licensure without having to release their work hours."

Graduates with the Associate of Applied Science in Opticianry degree are prepared for positions in doctors' offices and retail dispensing locations, along with sales positions and positions with wholesale companies. Visit the Ogeechee Technical College website to learn more about the Opticianry Program.
About Ogeechee Technical College:
Ogeechee Technical College (OTC) is a unit of the Technical College System of Georgia. OTC provides student‐centered academic and occupational programs and support services at the associate degree, diploma, and certificate levels. OTC utilizes traditional and distance education methodologies in state-of-the-art facilities while supporting adult education, continuing education, and customized business and industry workforce training. Visit www.ogeecheetech.edu for more information.
---
Contact Information
Sean Payne
Executive Director for Public Relations & Marketing
912.871.8559 | spayne@ogeecheetech.edu
---
Categories:
Press Releases
Opticianary
Online
---