OTC Holds 2022 Commencement
Posted on May 16, 2022 at 15:48 PM
---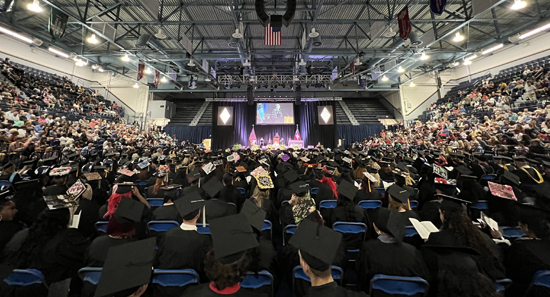 Ogeechee Technical College held its annual commencement ceremony at 7:00 p.m. on May 12 in Hanner Fieldhouse on the campus of Georgia Southern University.

In OTC's first full-scale commencement ceremony since the spring of 2019, nearly 300 students were honored in front of an energy-filled audience of faculty, staff, family members, friends, and local dignitaries. Students who have earned their associates degrees, diplomas, technical certificates of credit, and GED's were all recognized and celebrated throughout the evening's ceremony.

"This is the first time since the pandemic began that we have been able to celebrate our graduates in a traditional commencement setting with an audience," said Sean Payne, Executive Director for Public Relations and Marketing. "The energy in the building was contagious and it was a great reminder of just how important this moment is, not only for the students, but for their friends and family as well."

The commencement address was given by Bob Mackey, Athens Technical College GED graduate, inventor of the Yono Clip, and active supporter of education in the state of Georgia. Mackey commended the graduates for their hard work and dedication to success and reminded them that the hard work does not stop now.

"It's not about being able to finish first, it's about being able to finish what you started. It's about those goals and dreams that you have that have your name on it," said Mackey. "But let me remind you of something – that at the next level there is no elevator that will take you there, there are these things called steps that you have to take one at a time."

The ceremony concluded with loud applause and cheers as the graduates were instructed to move their tassels from the right side of their caps to the left. According to data from OTC Registrar, Erica Griffin, there were 818 students eligible to graduate this spring.
---
Categories:
Press Releases
Alumni
---