OTC Hosts German Students for Study Abroad Program
Posted on Sep 28, 2023 at 13:54 PM
---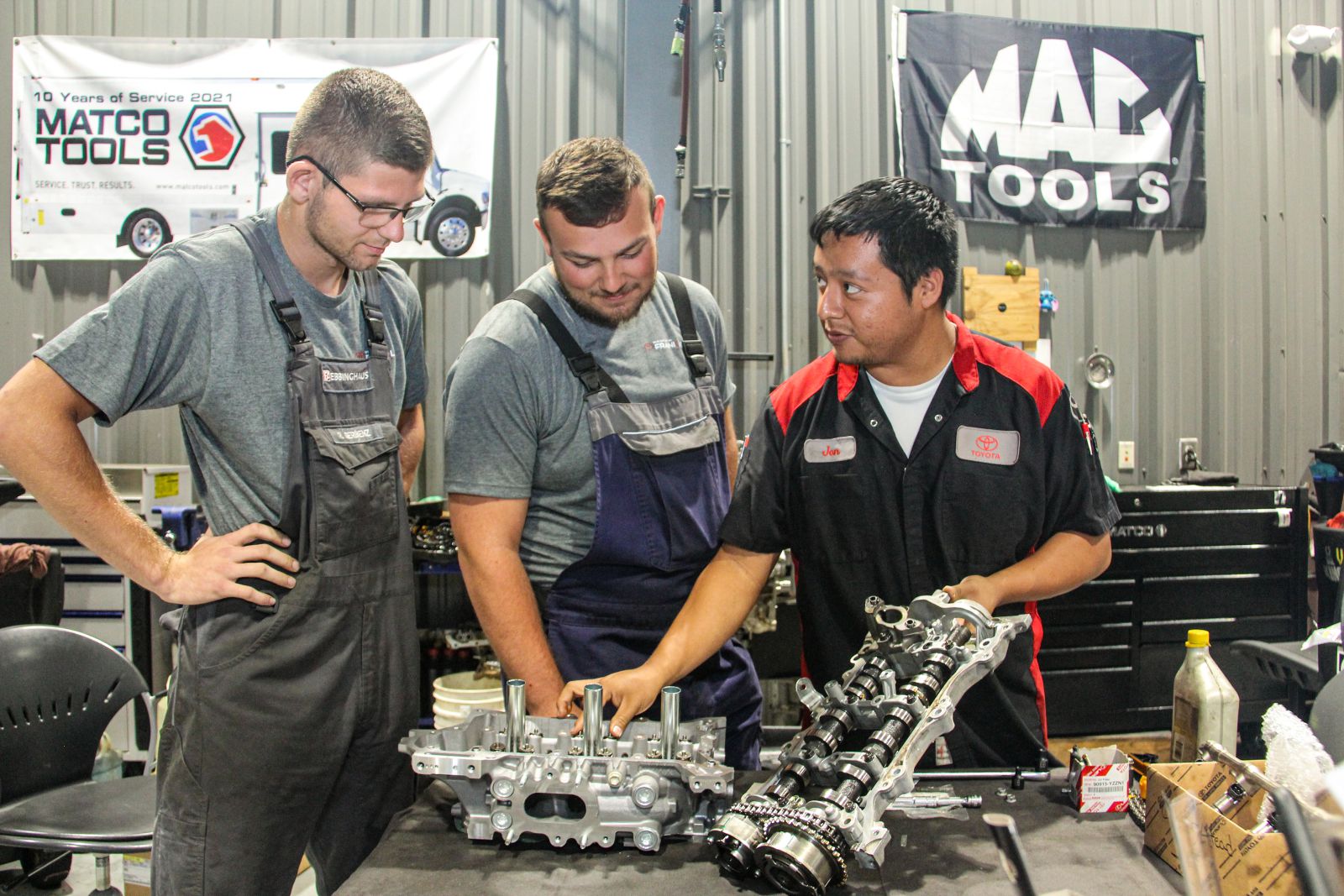 Pictured left to right: Rene Gerbenz and Miguel Hase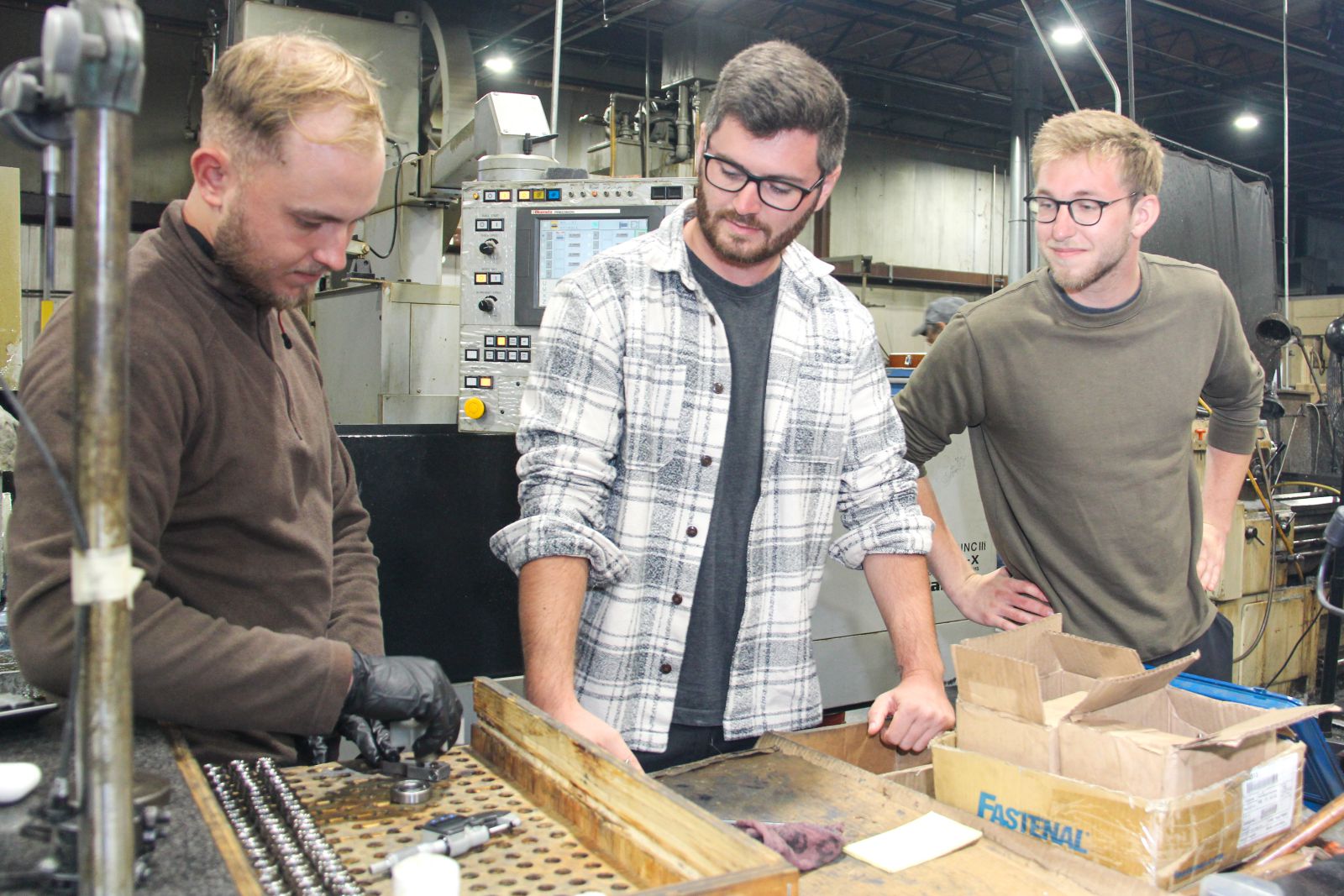 Pictured left to right: Marc Ganswind, Fabian Stöber, Krämer Till
Five students from Leopold-Hoesch Berufskolleg, a vocational college in Dortmund, Germany are working and learning in Statesboro as part of an exchange program with Ogeechee Technical College from September 9 - 30.
Students Fabian Stöber, Marc Ganswind, and Krämer Till who are studying to be industrial mechanics, spent their time job shadowing at Brodie International, while students Rene Gerbenzand Miguel Hase who are studying to be automotive mechanics, job shadowed at Franklin Toyota.
Gerbenz mentioned that one of the first things he noticed when he landed in Savannah were the amount of trucks and large SUV's on the road.
"It's been a really nice experience, I am learning a lot, you don't see a lot of V6 or V8 engines in Germany because emissions laws are very strict," said Gerbenz. "Getting to work a lot on those types of engines here in the U.S. has been nice."
While the exchange program is focused on academics and job shadowing, the students have had the opportunity to experience some things they never would in Germany.
"We had the opportunity to go to an American football game and go to the rodeo," said Hase."The rodeo was very cool; I've never experienced anything like it before."
Both Franklin Toyota and Brodie International expressed their delight in hosting the students and even though it was part of a job shadowing process there was a great deal of learning and teaching happening from both parties.
"The students have shown great enthusiasm and interest in the jobs they have been overseeing since they've come, and hopefully have learned a lot and have great stories to take home with them," said Ali Reagan, Fixed Ops Director for Franklin Toyota of Statesboro. "I know my techs have been grateful for the information and knowledge they have received from Miguel and Rene as well."
OTC employees, LeAnne Robinson and Matthew Gainous, were integral in putting together the exchange program and hope to be able to continue the partnership with Leopold-HoeschBerufskolleg in the future.
About Ogeechee Technical College:
Ogeechee Technical College (OTC) is a unit of the Technical College System of Georgia. OTC provides student‐centered academic and occupational programs and support services at the associate degree, diploma, and certificate levels. OTC utilizes traditional and distance education methodologies in state-of-the-art facilities while supporting adult education, continuing education, and customized business and industry workforce training. Visit www.ogeecheetech.edu for more information.
---
Contact Information
Sean Payne
Executive Director for Public Relations & Marketing
912.871.8559 | spayne@ogeecheetech.edu
---
Categories:
Press Releases
News
Tags:
Leopold-Hoesch Berufskolleg
Germany Exchange Program
---