OTC Students learn life skills at financial literacy workshop
Posted on Jul 12, 2022 at 16:32 PM
---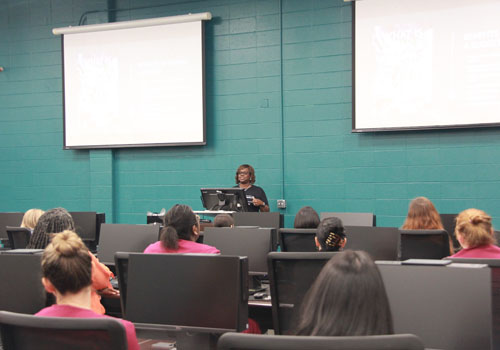 On Monday, June 27, Student Support Services at Ogeechee Technical College held a Financial Literacy Workshop for OTC students.

Hosted by Sabrina Burns, OTC's Accessibility and Special Populations Coordinator, the workshop helped students understand what financial literacy is and why it is important. The workshop covered how to manage personal finances and money, including how to budget, and when to save, invest, or borrow.

"Finances are not only a big obstacle for students pursuing an education, but once they graduate many have not learned how to properly manage a steady income," said Burns. "We hope by providing workshops like these that our students can not only learn to manage their money now to help finish their education but will become better stewards of what they earn once they graduate."

Guest speaker Sophia Harris-Johnson, CEO & Founder of Exodus Credit Counseling, LLC. discussed how to manage money by tracking spending, keeping cash on hand, and saving for emergencies. Harris-Johnson also emphasized the importance of budgeting and how it helps you avoid overspending, keeps you out of debt, and helps you prioritize what you spend your money on.

There are plans to host additional financial literacy workshops during the fall semester and those events will be announced at a later date.
About Ogeechee Technical College:
Ogeechee Technical College (OTC) is a unit of the Technical College System of Georgia. OTC provides student‐centered academic and occupational programs and support services at the associate degree, diploma, and certificate levels. OTC utilizes traditional and distance education methodologies in state-of-the-art facilities while supporting adult education, continuing education, and customized business and industry workforce training. Visit www.ogeecheetech.edu for more information.
---
Contact Information
Sean Payne
Executive Director for Public Relations & Marketing
912.871.8559 | spayne@ogeecheetech.edu
---
Categories:
Student Activities
Press Releases
Tags:
Opportunities
Financial Literacy Workshop
Student Activities
---