OTC Students Study Abroad in Germany
Posted on May 30, 2023 at 9:04 AM
---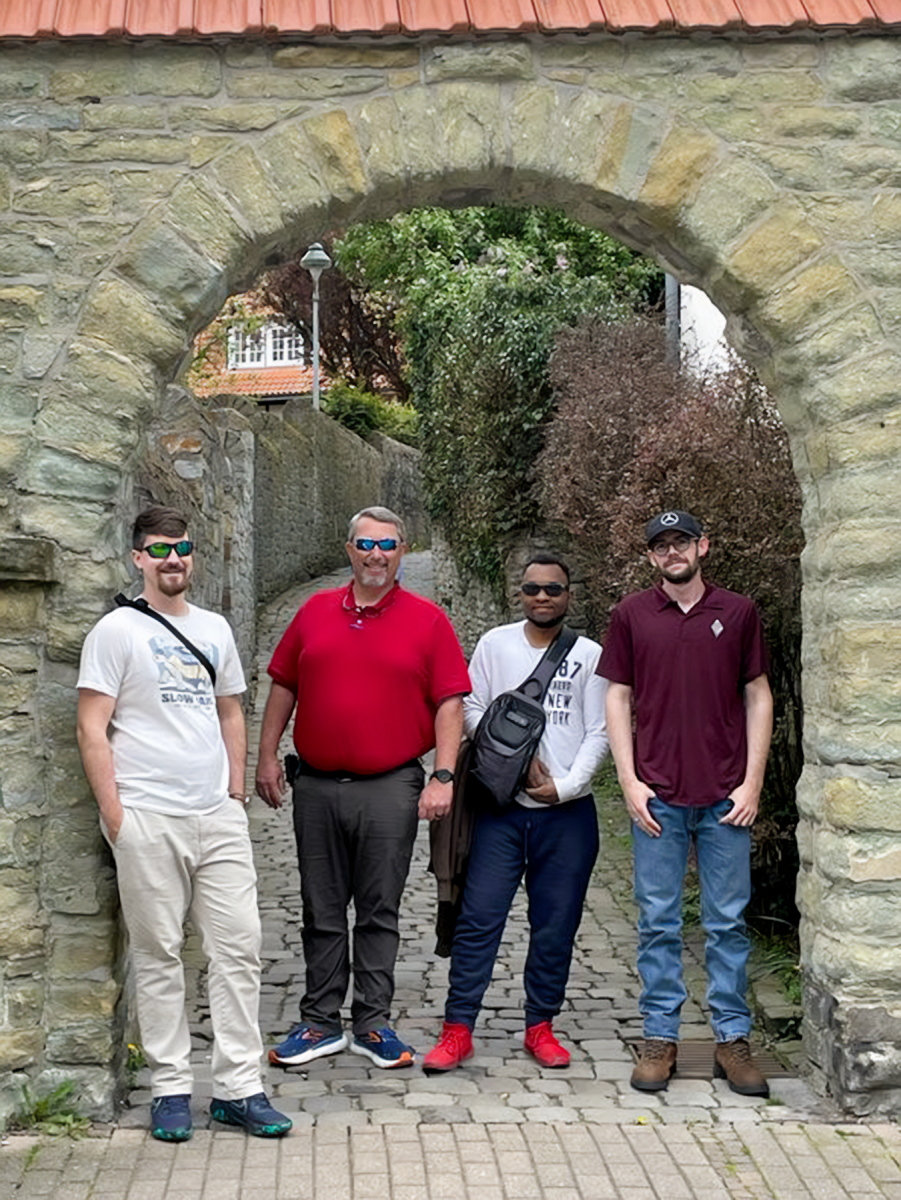 Several Ogeechee Technical College students traveled to Germany for three weeks, April 17 – May 7, 2023 as part of an exchange program with Leopold-Hoesch Berufskolleg, a vocational college in Dortmund.
Branden Broder, Manufacturing Engineering Technology, James Brandon Atkins, Automotive Technology, and Jordan Disher, Manufacturing Engineering Technology, gained valuable experience studying and shadowing in industries in the Dortmund community.
Atkins has always dreamed of working for Mercedes-Benz and had the opportunity to gain experience there while he was in Germany.
"I'm attending OTC to get an automotive mechanics degree so that when I finish I can go and work for Mercedes," said Atkins. "The time I spent with Mercedes-Benz was fantastic. The most important thing I learned while there is that car manufacturers have standards you must follow. These standards are especially true when it comes to working with Mercedes-Benz."
While the exchange program is focused on academics and job shadowing, the students had the opportunity to visit museums, historic sites, and immerse themselves in German culture.
"My favorite thing about the trip would have to be all the new friends I made. This student exchange wasn't just to enhance my career, but was a chance to meet new people and get to know their side of the world," said Atkins.
This fall, Ogeechee Tech will have the opportunity to host several students from Leopold-HoeschBerufskolleg who will take courses on OTC's campus and will job shadow at businesses and industry partners in the community.
"This partnership is a wonderful opportunity for both our students and theirs," said LeAnne Robinson, Dean for Academic Affairs. "It's the perfect combination of academics, experience, and cultural immersion that allows the students to gain a broader worldview and enhance their skills to make them better employees in the future."
The OTC students were accompanied by both Robinson and English instructor, Matthew Gainous (seen picutred above with the three students) for portions of their visit to Germany. Both Robinson and Gainous will play a crucial role in planning and hosting the students from Leopold-Hoesch Berufskolleg in the fall.
About Ogeechee Technical College:
Ogeechee Technical College (OTC) is a unit of the Technical College System of Georgia. OTC provides student‐centered academic and occupational programs and support services at the associate degree, diploma, and certificate levels. OTC utilizes traditional and distance education methodologies in state-of-the-art facilities while supporting adult education, continuing education, and customized business and industry workforce training. Visit www.ogeecheetech.edu for more information.
---
Contact Information
Sean Payne
Executive Director for Public Relations & Marketing
912.871.8559 | spayne@ogeecheetech.edu
---
Categories:
Press Releases
News
Tags:
Mercedes-Benz
Germany Exchange Program
OTC Study Abroad
---