Ray Delva Named OTC Instructor of the Year
Posted on Jan 20, 2022 at 13:54 PM
---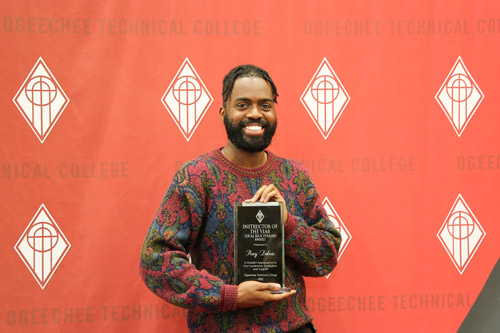 Ray Delva, English Instructor, was recently named Ogeechee Technical College's 2022 Rick Perkins Award for Excellence in Technical Instruction recipient at the annual Spring Faculty & Staff Meeting and Awards Ceremony held on January 18 in the Joseph E. Kennedy Auditorium.

The Rick Perkins Award for Excellence in Technical Instruction is an annual, statewide competition that honors the Technical College System of Georgia's most outstanding instructors. Started in 1991, this honor recognizes technical college instructors who make significant contributions to technical education through service, innovation, and leadership in their field.

"Ogeechee Tech is one of the premier academic institutions in the region, so I feel immensely honored to be named this year's Instructor of the Year," said Delva. "I get to work with so many talented colleagues and inspiring students; it really is a privilege. I'm excited for the college's potential to grow and continue serving the community."

Delva's dedication to his student's success was the common thread expressed by his nominators, one of whom wrote, "Just being around him makes you smile. He genuinely cares for all of his students and works with them individually to help them succeed. Many of his students talk about the growth they experience through the comments he leaves on their work."

The Faculty/Staff Meeting and Awards Ceremony, hosted by OTC President Lori Durden, is an opportunity for college faculty and staff to come together and celebrate the victories and achievements of the past year – among those is the Rick Perkins Award for Excellence in Technical Instruction.

"I'm incredibly proud of Ray and I have no doubt that he will represent us well in the state-wide competition," said Durden. "Ray is one of the bright shining stars on our campus. In his short time here at OTC he has made a name for himself and earned the respect and support of his colleagues and students."

Delva, a native of Port-Au-Prince, Haiti, spent the majority of his life in Metro-Atlanta before relocating to Statesboro in 2010. He holds a Master of Arts in English and a Bachelor of Arts in English from Georgia Southern University. In Delva's first year teaching English professionally he was awarded the Jack N. Averitt Award in Excellence in Instruction by Georgia Southern. He is also the recipient of the Samuel W. Van Leer award from the Westminster Schools of Atlanta. Additionally, Delva's leadership was recently recognized in the Statesboro Herald by being named one of Statesboro's "20 Under 40" for 2020.

Following OTC's nomination, Delva will interview in the regional competition in Tifton on March 2. If selected as one of three finalists from the region he will move on to compete for the state title the week of April 25-28 in Atlanta.
About Ogeechee Technical College:
Ogeechee Technical College (OTC) is a unit of the Technical College System of Georgia. OTC provides student‐centered academic and occupational programs and support services at the associate degree, diploma, and certificate levels. OTC utilizes traditional and distance education methodologies in state-of-the-art facilities while supporting adult education, continuing education, and customized business and industry workforce training. Visit www.ogeecheetech.edu for more information.
---
Contact Information
Sean Payne
Executive Director for Public Relations & Marketing
912.871.8559 | spayne@ogeecheetech.edu
---
Categories:
Press Releases
Faculty/Staff
---