21 Students Receive Practical Nursing Pins
Posted on Aug 01, 2022 at 18:16 PM
---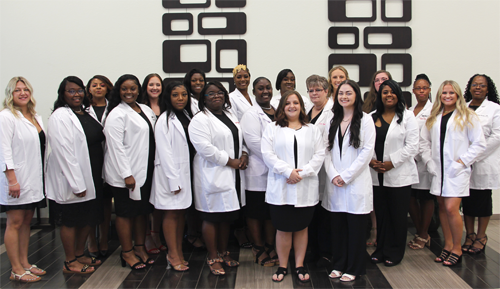 21 students in the Practical Nursing program at Ogeechee Technical College received their pins in an annual pinning ceremony held at 4:00 pm on Monday, July 26 in the Joseph E. Kennedy Auditorium.

Sharon Williams one of the nights pin recipients, addressed her classmates and reminded them that they will be spending their lives taking care of the needs of others.

"We must have empathy for our patients, we are the voice of the voiceless, and the advocates for those who cannot advocate for themselves," said Williams. "We are the helping hands for the people of our community, and we should realize that even by helping one person we are making the world a better place, one patient at a time."

During the ceremony, Practical Nursing program director, Jackie Howard, address the pin recipients and reminded them that all that hard work has finally come to fruition.

"I'm sure you've heard the old saying that 'a diamond is just a chunk of coal that did well under severe pressure.' Diamonds also have an image of purity and light; the strength and resilience of a diamond lasts forever… We as your instructors see you all as diamonds," said Howard during the ceremony.

Those receiving their Practical Nursing pins during the ceremony were Shanice Biggins, Savannah Caddell, Krystal Clark, Amy Eason, Katie Hendricks, Mary Hulsinger, Shymeka Hurst, Hermayia Johnson, Samantha Johnson, Alicia Kelly, Ila Maynor, Makayla Moody, Crystal Rice, Caitlyn Rykard, Stephonna Sherrod, Gabrielle Slayton, Marion Teel, Frances Weeks, Rosiya Wells, Shanita Patterson Wiggins, Sharon Williams.

Click here to watch a recording of the live streamed celebration. To learn more about the Practical Nursing Program at Ogeechee Tech, visit http://www.ogeecheetech.edu/academics/practical-nursing.
About Ogeechee Technical College:
Ogeechee Technical College (OTC) is a unit of the Technical College System of Georgia. OTC provides student‐centered academic and occupational programs and support services at the associate degree, diploma, and certificate levels. OTC utilizes traditional and distance education methodologies in state-of-the-art facilities while supporting adult education, continuing education, and customized business and industry workforce training. Visit www.ogeecheetech.edu for more information.
---
Contact Information
Sean Payne
Executive Director for Public Relations & Marketing
912.871.8559 | spayne@ogeecheetech.edu
---
Categories:
Press Releases
Practical Nursing
Tags:
Ceremonies
Academics
Nursing
---