Wamba named 2022 Outstanding Alumni
Posted on May 18, 2022 at 15:03 PM
---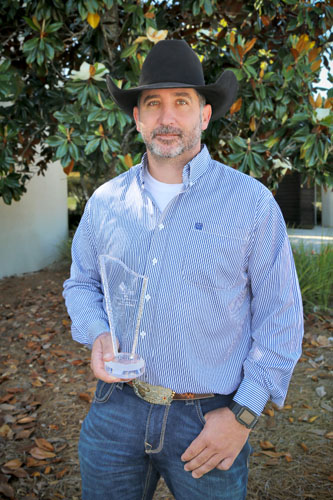 Jason Wamba, a 2015 graduate of the Agribusiness program at Ogeechee Technical College, was recently named OTC's 2022 Outstanding Alumni winner.

Currently working at the Georgia Department of Agriculture as the Assistant Director of Warehouse and Bounding, Wamba oversees the storage of grain and cotton and the purchasing of produce and livestock for the state of Georgia.

His nominator wrote, "In a community with such a strong agricultural base, Jason is exactly the kind of alumni OTC strives to produce, one who is excelling in his career field and who continues to promote his program and the college locally and throughout the state."

In addition to being a United States Army veteran, Wamba currently serves on OTC's Agribusiness Advisory committee, sits on the Association of Grain Regulatory Officials Board of Directors and Statesboro-Bulloch County Chamber of Commerce Agribusiness Committee, and was recently a Georgia Cattleman's Association "From the Field" panelist.

"One of the pleasures of working in technical education is seeing our graduates excel in career fields they came here to study," said OTC president, Lori Durden. "Jason is not only making a name for himself statewide in agribusiness, but he's taking that knowledge and experience and investing back into our program."

Each year the Outstanding Alumni award is presented to an Ogeechee Tech alumni who graduated within the last ten years, is making outstanding contributions and excelling in their chosen fields, who is giving back to their community, and is dedicated to the advancement of the College.

About Ogeechee Technical College:
Ogeechee Technical College (OTC) is a unit of the Technical College System of Georgia. OTC provides student‐centered academic and occupational programs and support services at the associate degree, diploma, and certificate levels. OTC utilizes traditional and distance education methodologies in state-of-the-art facilities while supporting adult education, continuing education, and customized business and industry workforce training. Visit www.ogeecheetech.edu for more information.
---
Contact Information
Sean Payne
Executive Director for Public Relations & Marketing
912.871.8559 | spayne@ogeecheetech.edu
---
Categories:
Press Releases
Alumni
Alumni
---