GOAL & Rick Perkins Candidates Place as Finalists
Posted on May 02, 2023 at 16:19 PM
---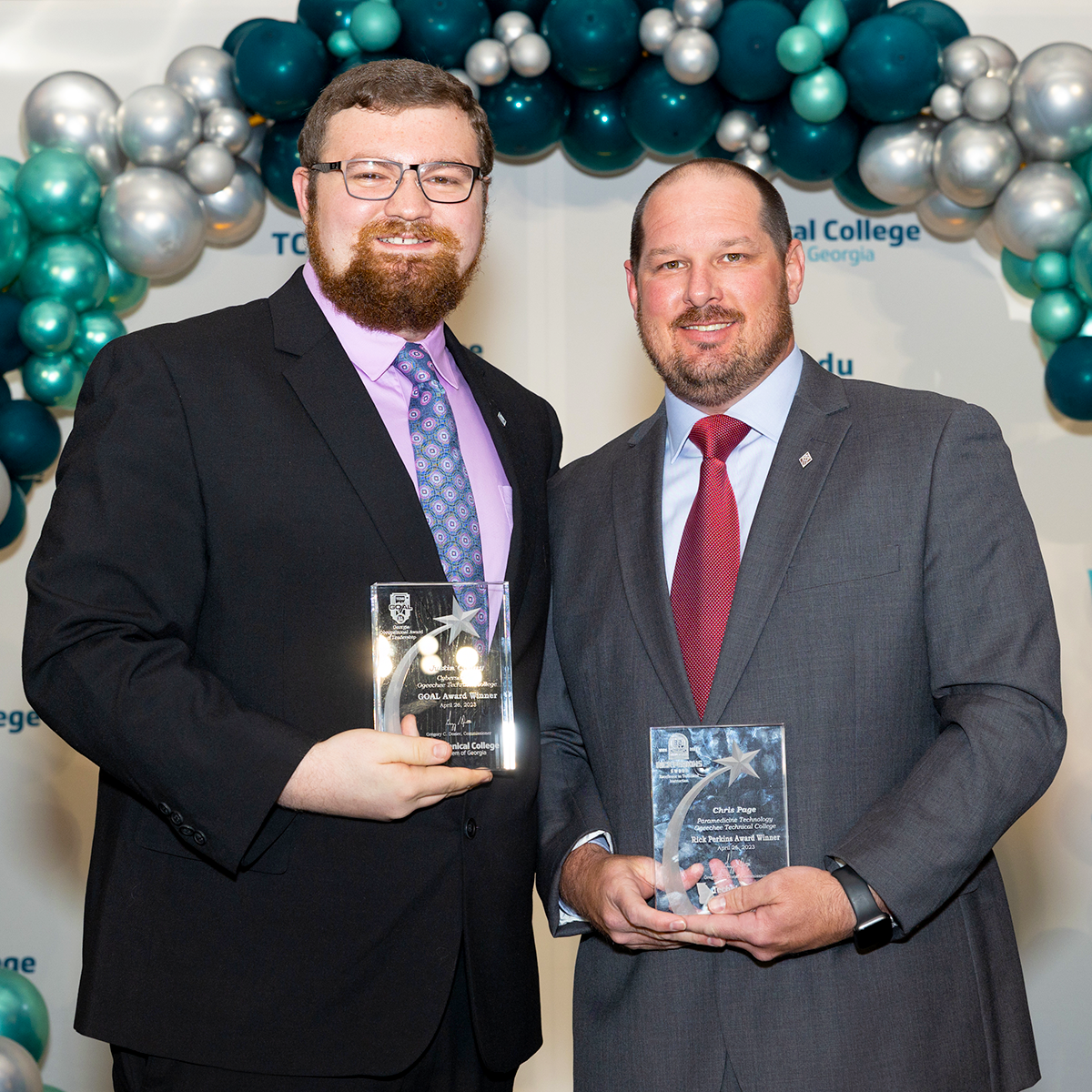 Both Chris Page, Ogeechee Technical College's 2023 Rick Perkins Award (RPA) Winner, and Justin Clenny, OTC's 2023 GOAL winner, placed as regional finalists in their respective statewide competitions at this year's 2023 TCSG GOAL/RPA Leadership Summit.
On Tuesday, April 25, Page and Clenny were announced among the nine finalists in each competition, three from each region. The following morning all finalists had one final interview and the statewide winners were announced at dinner on April 26.
"I had the opportunity to spend several days with all 22 Rick Perkins winners and there wasn't a single person in our group who didn't deserve to be named the overall winner," said Page, OTC's Paramedicine Technology program director. "It's an honor to be named among the nine finalists and see how much passion, wisdom, and integrity there is among the faculty in the Technical College System of Georgia."
Clenny who is enrolled in OTC's Cybersecurity program expressed deep introspection when talking about his experience at the leadership summit.
"My experience through his entire journey consisted of nothing but overwhelming support from family, friends, and everyone at OTC," said Clenny. "The journey helped me gain a lot of confidence in myself and helped me realize how powerful my story can be."
In addition to their interviews, the candidates participated in special events like an 80's decade night, group building activities, and individual sessions that included professional development.
About Ogeechee Technical College:
Ogeechee Technical College (OTC) is a unit of the Technical College System of Georgia. OTC provides student‐centered academic and occupational programs and support services at the associate degree, diploma, and certificate levels. OTC utilizes traditional and distance education methodologies in state-of-the-art facilities while supporting adult education, continuing education, and customized business and industry workforce training. Visit www.ogeecheetech.edu for more information.
---
Contact Information
Sean Payne
Executive Director for Public Relations & Marketing
912.871.8559 | spayne@ogeecheetech.edu
---
Categories:
Press Releases
News
Tags:
TCSG GOAL/RPA Leadership Summit
Rick Perkins Award
paramedicine technology
Cybersecurity
---